Whether you're planning a virtual Christmas because you're unsure in-person events will happen this winter or you're keen to keep the benefits of online accessibility and affordability (hint: you really should be), there are lots of ways to bring people together and enjoy the Christmas fun this December.
From team parties to festive fundraising, here are our team's top 5 Christmas virtual event ideas.
Virtual Christmas Grotto
A Fundraising Everywhere favourite from 2020 (mainly because Nikki loves an excuse to dress as an elf).
Find yourself a quality Santa and an easy to manage virtual meeting room to provide a magical experience for the children of staff or supporters. It's simple enough to run with kids added and removed from the meeting room in 3-5 minute slots.
It's important to remember when hosting events for young people that online safety should be a big part of your planning. Make sure you stay in the virtual room when Santa meets the kids, offer booked-only slots, and do your Santa research to make sure they're checked and engaging.
Top tip: Choose a virtual meeting room that lets you add your own branding and for quality skip the green screen in favour of a specially curated Christmas background.
Online Winter Wonderland
Interactive networking spaces can be repurposed for plenty of Christmas-themed activities.
Picture this; your team enters the virtual room, 'All I Want for Christmas' plays over their headphones as they 'walk' towards the virtual campfire. They hear the crackle of a warm fire as they open their Secret Santa presents (sent in advance) before heading to the dancefloor for a dance (or a walk in the winter woods for more the more introverted amongst us).
Top Tip: Create multiple spaces within your networking park so attendees can move around freely and engage in multiple activities. Our team have created everything from scavenger hunts to movie nights - you can even host them in the same park!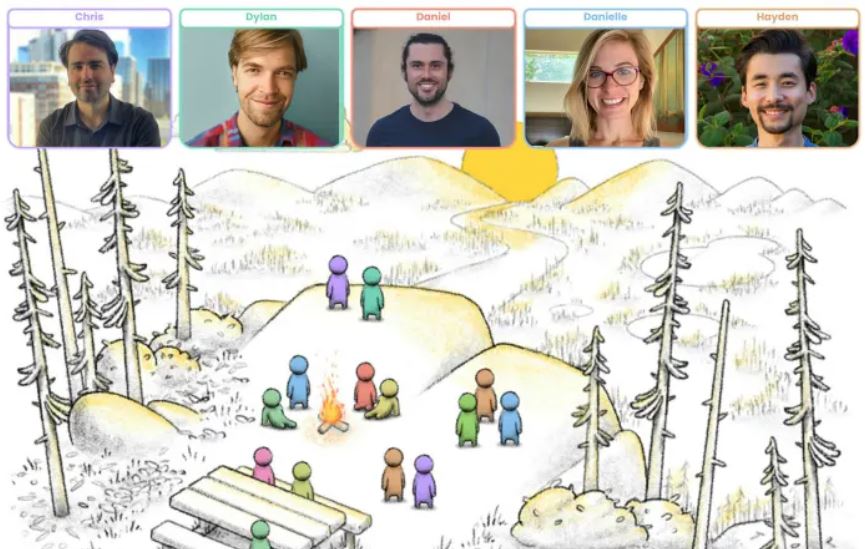 Christmas Choir
Tenovus Cancer Care hosted their first virtual Christmas Choir in 2020 with amazing results.
They were able to enlist the hosting help of celebrity Wynne Evans, bring together cancer survivors who wouldn't have been able to travel to an in-person event, and raised over £7,000 in one hour.
You can read more about their virtual event and watch the highlights here.
Top tip: Pre-recorded content means higher quality and lower stress. You can book our virtual recording studio for as little as £30 per hour - we'll even edit it for you!
Balloon Party
When the Fundraising Everywhere team celebrated Christmas 2020, a party pack was sent in the post with balloons, treats, and Santa hats before joining Miss Ballooniverse for an hour of hilarious creativity.
Choosing an activity that allows all attendees to participate is a top tip for hosting virtual parties. Throw in prizes for the winner for a bit of friendly competition.
Top tip: Be inclusive with your activity choice and mindful of attendees' beliefs, abilities, and accessibility.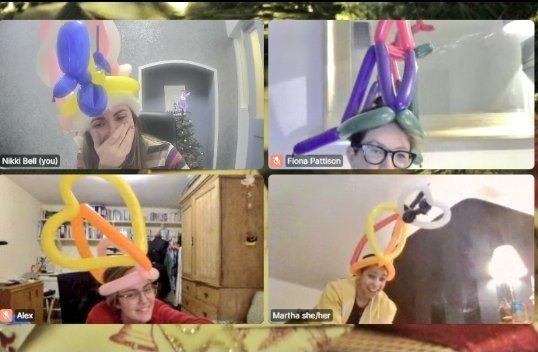 Cookalong
With employers embracing remote-first work and employees enjoying work-from-home benefits, virtual Christmas parties are a great way to bring people together from the comfort of their own home - and kitchen.
Bond over food and share your favourite recipe with your team by hosting an online cookalong. Send the ingredients in advance, grab a camera (and a spatula), and get cooking! Share your results in your internal communication tools and vote for the tastiest looking dish.
Top tip: It goes without saying but choose a dish that's not complicated to make and requires little to no equipment.
If you're planning a virtual party for Christmas 2021 you can expect ease, excitement, and way more accessibility (not to mention lower cost).
We've hosted 400+ virtual events on our platform since 2019 and we're all about engaging and stress-free experiences. We can do this for you too.
Our talented team of fundraisers turned tech-pros will work with you from idea to delivery, we'll even run the event for you on the day so you can concentrate on the fun and connections.
Email [email protected] with your idea and we'll make it a reality.