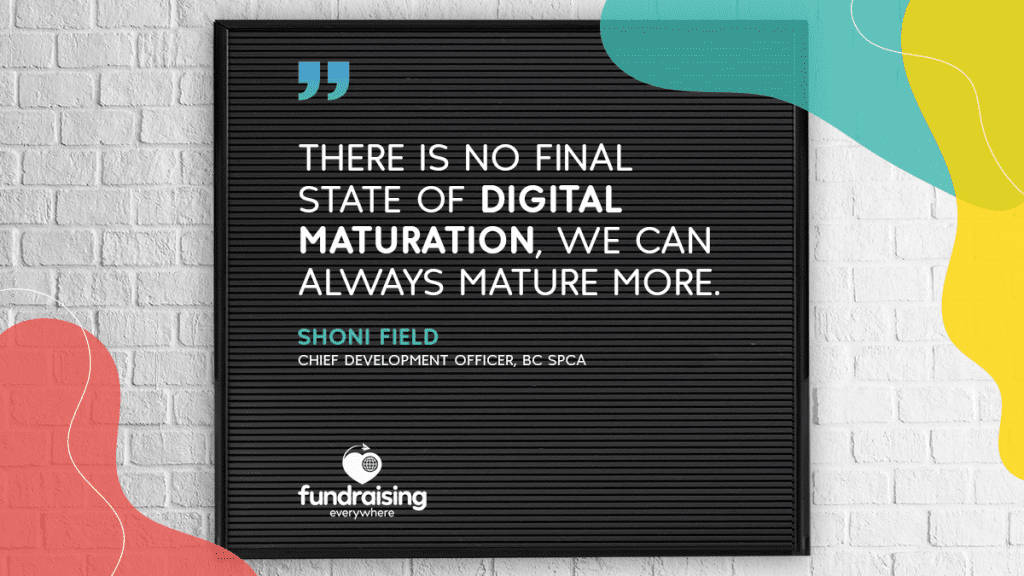 Are we moving forward digitally?
At Fundraising Everywhere & Everywhere+, we're an organisation made up of fundraisers. With over 50 years of experience between us, it's safe to say, we've seen our fair share of change in the sector. And it won't be a surprise for you to hear that we feel deeply connected to and passionately about purpose-driven organisations, and how they are fairing as they work to make the world a better place.
That's why we were at the front of the queue when The Status of UK Fundraising 2021 was released. We've gone through it, line by line, and have reflected on what the findings mean for our fellow fundraisers, fundraising and charities, today.
It's year 4 of Blackbaud Europe and JustGiving's annual benchmarking report, and, nearly 2 years on from the last report, we were encouraged to read of the signs of hope returning to the sector. Charities have adapted and have learned to do things differently. It's something we've witnessed first hand, as more and more organisations have made the leap to virtual through our Everywhere+ platform, connecting with their donors and beneficiaries in new and exciting ways. Digital has enabled so much for charities during the pandemic, from program delivery to, of course, fundraising. But, the question we're asking ourselves now is, where does this leave us today? Are we really moving forward digitally?
"Only one in 10 UK non-profits would describe themselves as 'digital experts' – but those organisations are more likely to be gaining supporters faster, growing their income, and feeling more optimistic about the future. There is so much to gain from the power of digital – the benefits for any non-profit are clear – and we hope that those sitting on the fence about whether to embark upon their own journey can take confidence in these findings and make the move forward." - The Status of UK Fundraising 2021
The report surveyed non-profit professionals from small (48%, income <£1m), medium (32%, income £1-10m) and large organisations (20%, income £10m<). There were slightly more fundraising managers surveyed (35%) versus experienced junior fundraisers (24%). Directors, CEOs, or Trustees made up the rest of the respondents. One of the overarching findings of the report is that, though charities investing in digital transformation are seeing financial reward, there is still scepticism in the sector as to its value and importance. The report cites that over 60% of individuals surveyed agree that;
Digital transformation is critical to success.
Technology is used to improve the way their organisation operates.
Data is used to improve performance.
Though only 12% of respondents have described themselves as digitally mature, with 1-in-8 charities (13%) not considering digital transformation important. Encouragingly, 2-in-5 (39%) of charities are adopting digital and are optimistic about new technologies.
In the following sections, we'll take you through our response to the report, and the themes we think are most important for you to consider moving forward; investment in digital capacity building, using technology effectively and how to choose the right partner. We'll wrap up with our top tips going forward no matter where you are in your digital journey.
Why everyone needs to invest in digital capacity building
"But whilst the pandemic has pushed some to develop their digital maturity, a clear gap is emerging between those that are embracing everything that digital has to offer, and those that remain sceptical." - The Status of UK Fundraising 2021
It's troubling to read that there are almost as many digital sceptics as there are experts, but it's not surprising.
Fundraisers at smaller organisations have way too much to do and not a lot of time to do it in. With the fast pace of digital, it can be hard to jump on the wagon and stay onboard. It can feel overwhelming and often, at times, without reward. It's comforting to stick with what you know.
On too many virtual events we've hosted for charities on our virtual platform, Everywhere+, we've been privy to green-room chat that goes along the lines of, 'oh, I don't like this/don't know how to work it. I can't wait to get back to in-person things…' and it's apparent that the concern of the 'unknown' is what holds us back; 'I don't understand this so I don't support it.' This may resonate with many of you reading this right now.
And there lies a key problem; the people at the top signing off both strategic and budget decisions often don't 'get it'. And so the responsibility falls on a fundraiser to both educate and campaign for even a slither of digital support in a world that's moved on before they get the green light. Of course, you'd abandon these efforts because you have very little time to keep the money coming through from the already embedded programmes.
But there is hope and opportunity. Thankfully, there are many leaders out there with the foresight to see that digital is key to success with and for our donors.
Adopting digital transformation doesn't mean giving up on non-digital methods. It means they're integrated and used better.
Using technology effectively
We all know the importance of data, and using it effectively. As fundraisers, it tells you how to engage with your donors about the issues that matter most to them. As well as how to do this in a way that gives you the best chance of raising vital cash for your causes. The report reveals that organisations that use CRM systems are more likely to see their income increasing.
Specifically that;
43% of organisations that use a CRM saw an increase in income over the last year
With income decreasing for 41% of those without a CRM
With the survey reporting that overall income has decreased again this year (now a 3-year trend), and fundraising targets proving more difficult to meet, how can charities use technology to support them to meet their fundraising goals?
Nearly 88% of digital experts said their organisations provide digital tools and technology that enable their people to work more effectively, vs an alarming 53% of all respondents. It's clear many in the sector need support in this area. And with nearly 47% of participants reporting a lack of digital leadership to drive the transformation, it's clear that this push needs to come from those on the ground. Compelling cases for support will help inspire leaders and instil the confidence they need to unlock investment into their people and the future of their organisations.
We don't need this report to tell us that many are still recovering financially from the pandemic and that concerns of the economic situation are still very much front of mind. However, the numbers are clear. Without investment into the basics, it's a false economy and organisations are setting themselves up for failure.
On the other hand, it was inspiring to read that organisations classified as 'Digital Experts' scored the best in every area of the surveys, with the highest proportion;
Gaining more supporters than they're losing
Reaching new audiences
Meeting fundraising targets
Retaining supporters
Able to deliver services
Digital adopters are getting there, too. They reported that they feel they have all the right tools and tech to work digitally. Where they differ is that digital adopters expressed a need for training and upskilling to use the tools more effectively. They also found it challenging to keep up with the pace of changing technology. This is something we've all had first-hand experience of as fundraisers. Team structures most often don't evolve as quickly as external factors necessitate, be it organisational direction, audience need, or indeed evolving technology. With fundraisers working right up to or beyond maximum capacity, it can leave little or no time to make the most of well-meaning and progressive developments, such as digital tools. In the next section, we've shared our advice on choosing the right tech partner to help with the essential and let's face it, inevitable evolution into the digital world. In the words of Alan Deutschman, change or die, right?
How to adapt to digital: choosing the right tech partner
Following the news of the closure of Virgin Money Giving, 'how do we choose the right platform?' was the most asked question amongst fundraisers. And the quick answer is, it depends on what you need it for. With so much choice and varying features, it's easy to feel overwhelmed when choosing the right digital tools for you. Especially as new ones are announced every day!
But the good news is you don't have to be on SnapChat, Facebook, or even Instagram.
Think about the long term goal for your organisation, where your donors are, and what resource you have or need to weave it all together - that's where you start. Start small, monitor and track progress, test, and keep going!
Don't be afraid to pull a proposal together and get it in front of decision-makers. Think about investment and return. Why should your director sign off this spend? How will it improve ways of working now and into the future? Who needs to be involved in the implementation, and are those people bought in? And for the decision-makers amongst you - we ask you to be open. Reject the status quo. Listen to your teams. It may feel uncomfortable but lean into this. Everyone is depending on you to make the right decisions.
For more advice on choosing the right fundraising tech for you and how to use it, download the FundraisingTech Summit for immediate access to all webinars.
Closing thoughts
So, let's recap. It's not all bad news. In fact, there's some great stuff happening. Many organisations are storming ahead and reaping the rewards. But we need to remember that, with digital, there's no final destination. As one of our speakers, Shoni Field, said at the #IGSummit last year,
"There's no final state of digital maturation. We can always mature more."
Many organisations are still at the start of that journey. After all, Rome wasn't built in a day. For smaller charities, it can be difficult to find the headspace to put to this stuff. And larger places need the right digital leaders to forge the path ahead. What we can say for sure, is that by building digital capacity and investing in the right digital technologies and partners, organisations are not just future-proofing their organisations and income streams, they're creating the kind of work environments and opportunities that attract and retain talent. With or without digital, what makes charities exceptional is their people.
No matter where you are in the digital evolution, we couldn't leave you without sharing our recommendations moving forward from here.
Check out the highlights from Shoni's session or watch the full recording on demand.
Digital sceptics
We understand that you already have so much more to contend with and 'digital transformation' may sound like a buzzword that's about to add a million things to your to-do list, but the results from this report speak for themselves.
Start small and utilise the support available to you to make an easy start:
Have a personal account on Facebook? You know how to post. Set up a charity page and start sharing stories.
Engage with local partners who can give their skills instead of donations.
Pop along to a Google Garage webinar for free digital tools training.
Digital rookies
You've already done the hard part, now keep going! It's been a tough year and of course, you feel disheartened. But, bigger inputs mean bigger outputs. This is a great opportunity to build on what you've already done.
Review your existing activity and perform a keep, improve, or bin exercise.
Use data to find out what digital activities are getting you the biggest results and spend most of your time there.
Stay connected with other digital rookies, adopters, and experts to get support and insight on the journey ahead of you. Our Member Slack Channel is a great place for instant support on all things fundraising!
Digital adopters
You are crushing it, well done! To boost you up to digital experts, it's time to bust out the data. It's hard to know where you're going if you don't know where you've been.
Make data review a regular activity in your team meetings and decision making.
Benchmark. Partner up with other charities and get involved in benchmarking projects to check your activity measures up. We love M+R Benchmarks which came to the UK in 2021 in partnership with our good friends at Rally.
Access all of the Data Slam webinars to learn how to use data properly.
Digital experts
Not much to say here except a huge well done. You're blazing the trail and that's not easy. If we could ask you to do just one thing it's to keep going - don't get comfy here. Digital changes so often and it's important to stay ahead instead of catching up.
Oh, and please share what you've learned (ok, that's two things). This report highlights that we have a huge way to go as a sector when it comes to digital transformation and your experience can help these organisations change the world for the better so much faster.
Final word - online tools are useless if you don't have the basics right. Catch up on the Individual Giving Summit On Demand. Learn about supporter journeys, finding your purpose, storytelling, and social media. Explore the sessions of sharing, insights, and community that will help you improve right across the fundraising mix.
For more insights, sign up to hear from us by email. Just head to our website and scroll down to the bottom.